Several times a year, Prevent Child Abuse Indiana hosts either a Conference or Signature Event, Workshops, Webinars and fundraising events to help educate our communities and raise awareness. We hope you'll attend, and help us further our mission of keeping kids safe.
PCAIN 2021 Conference Webinar Series – June 25th
June 25, 2021 @ 11:30 am

-

1:30 pm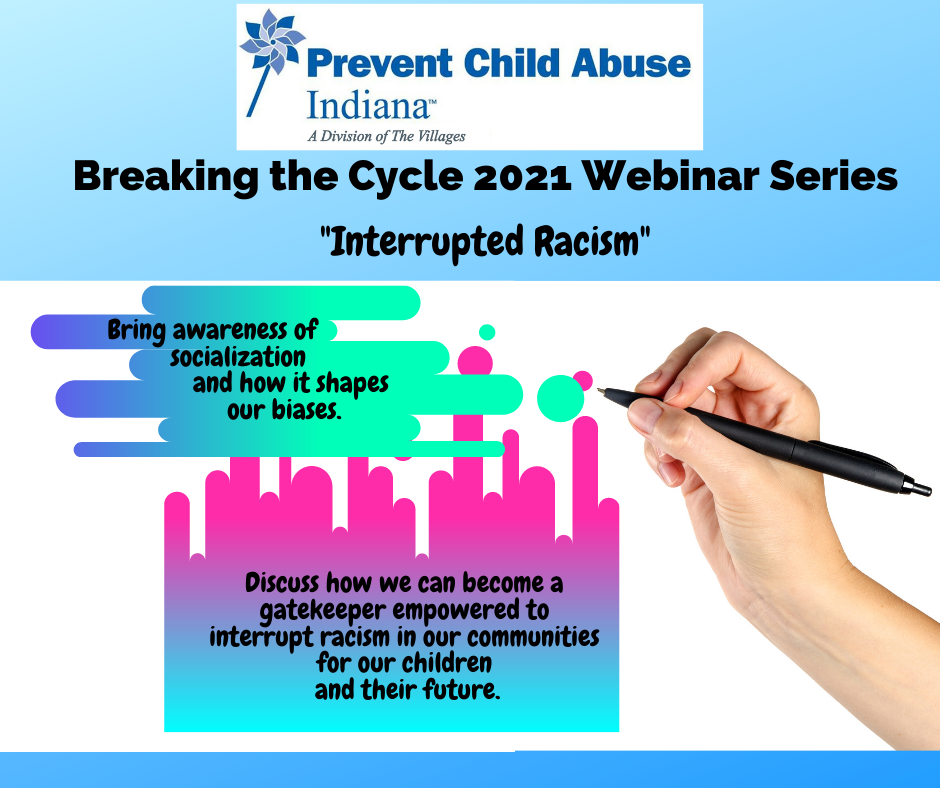 Topic: "Interrupted Racism"
Date:   June 25, 2021
Time:  11:30a-1:30p (EDT)
Speaker:  Jill English, Director of Interrupting Racism, Child Advocates
Description:  This workshop will bring awareness of socialization and how it shapes our biases.  We will discuss how you can become a gatekeeper empowered to interrupt racism in our communities for our children and their future.
 Speaker Bio: Jill English is a native of Indianapolis and a graduate of DePauw University.  She began working with abused and neglected children in the 1990's and served in various roles, advocating for the needs of children and families, training foster parents and addressing the needs of traumatized youth, with a focus on understanding diversity and the impact of trauma.  In recent years, Jill trained Court Appointed Special Advocates on cultural sensitivity and served as guardian ad litem for Marion county youth before transitioning to her role as Director of Interrupting Racism for Children at Child Advocates.  Jill is a facilitator for Spirit and Places Powerful Conversations on Race, Soul Focused Group, and Interrupting Racism for Children at Child Advocates.  Jill is the co-chair of the Equity, Inclusion, and Cultural Competence Committee for the Commission on Improving the Status of Children in Indiana and a certified trained of Civic Reflection and trains individuals on facilitating difficult conversations.
Audience: All Professionals, non-professionals, caregivers, foster parents, parents (Must be age 18 or older)
WARNING:  If you are attending this virtual training at home, please be sure to either use headphones or be alone while attending. Some information may not be suitable for younger children.
A Survey will be emailed to you after the webinar. Once you complete your Survey our office will email you the Training Certificate within 12-24 business hours.
Just a reminder that if you register as a couple or a group, each person will need to complete an PCAIN Survey to qualify for a Training Certificate.