Several times a year, Prevent Child Abuse Indiana hosts either a Conference or Signature Event, Workshops, Webinars and fundraising events to help educate our communities and raise awareness. We hope you'll attend, and help us further our mission of keeping kids safe.
PCAIN 2021 Conference Webinar Series – June 4th
June 4, 2021 @ 11:30 am

-

1:00 pm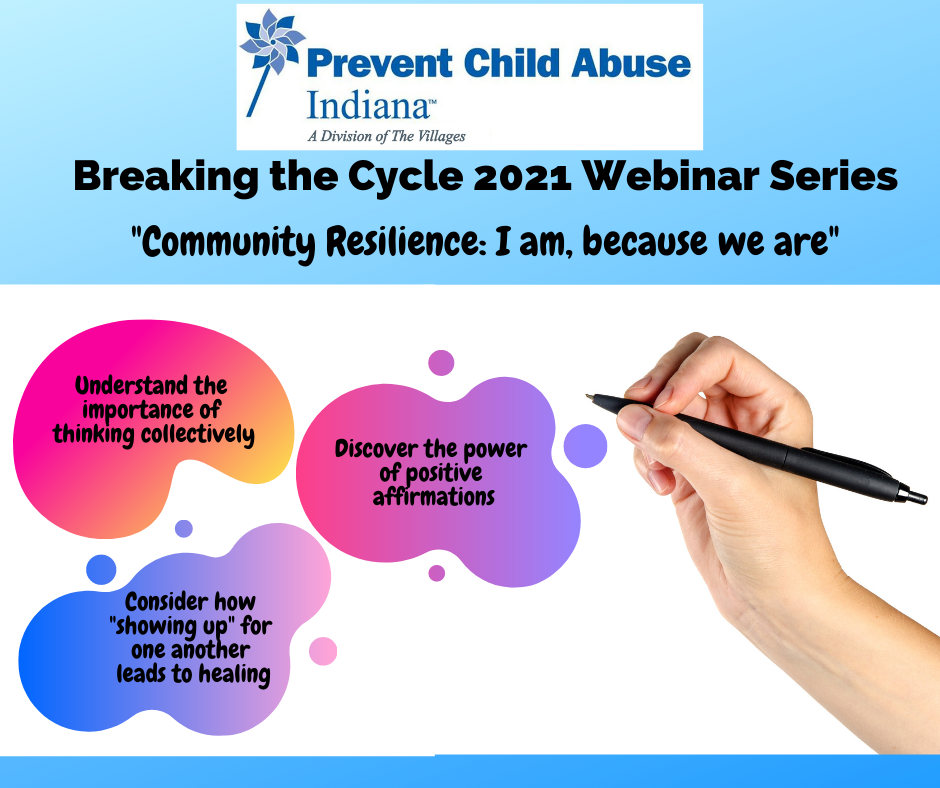 Topic: "Community Resilience: I am, because we are"
Date:   June 4, 2021
Time:  11:30a-1:00p (EDT)
Speaker:  Rick Griffin, Director of Training and Curriculum, Community Resilience Initiative
Description:  This session is about the power of supporting one another.  It serves as reminder that we belong to a greater whole and strong relationships are a pathway to healing.
The Objectives of this training are to:
Understand the importance of thinking collectively.
Discover the power of positive affirmations.
Consider how "showing up" for one another leads to healing.
Speaker Bio:  Rick is currently the Director of Training and Curriculum Development for Community Resilience Initiative (CRI), the nation's first community resilience network.  Rick holds a Master's degree in Education and uses his education to develop innovative content and to deliver engaging presentations.  He speaks to thousands of groups from all over the country and is widely recognized for his work with trauma-informed practices.
As the former Executive Director of a trauma-informed therapeutic residential program for struggling teens, Rick has first-hand experience with developing and implementing strategies and structures that foster resilience.  His experience allows him to consult seamlessly with schools, businesses, and community organizations.
Mr. Griffin continues to be on the leading edge of training design.  He has developed several outstanding trauma and resilience-based programs and practices including "Racism from a Neurodevelopment Lens", "Fostering Resilience in the Family", and "Resilient Relationships: The Search for Love, Trust, and Safety".  He is currently working on his latest project "Purpose Driven Play", a series of games designed to equip individuals with the skills to overcome adversities.  Amid all this Rick still finds time for his highest priorities, his faith, his family, and his friends.
Audience Type: All Professionals, non-professionals, caregivers, foster parents, parents (Must be age 18 or older)
WARNING:  If you are attending this virtual training at home, please be sure to either use headphones or be alone while attending. Some information may not be suitable for younger children.
A Survey will be emailed to you after the webinar. Once you complete your Survey our office will email you the Training Certificate within 12-24 business hours.
Just a reminder that if you register as a couple or a group, each person will need to complete an PCAIN Survey to qualify for a Training Certificate.